15 Different Vacation Rental Templates To Choose From
Choose from one of our 15 templates, already premade with the best features for your vacation rental website. 100% free and available to anyone who signs up with our subscription service to Vacation Rentals By Vacarent
If you want corporate, we have it. Casual, we have that too. Beachy to outdoorsy, our themes cover the gamut to give you a WIDE range of options. Don't worry though, every one of our themes is 100% customizable to give you the exact style you want.
Every theme comes prebundled with the standard options you would expect. Calendar, gallery, contact booking, and much more. When you get stuck, you can search for help with our forums and or our videos. We are here to help.
With the Mike, you get a robust theme that is feature packed with many items a vacation homeowner needs and wants. An easy to alter interface and great flow between the rows and columns.
Stylish, progressive, and beautiful with cutting technology for navigation (lots of buttons) the Handan is perfect when you want something uniquely different.
Chloe is an artist's dream come true. Plenty of panel space for images, nicely spaced headers, and a quick load  time are all standard in this theme. Choose the Chloe for a smart website
The Mackenzie is a fast, funny, and zippy theme based on a carefree, flip the hair attitude. Whatever the others are doing, this one will do the opposite. Great theme for everyone.
If you are looking for a clean design with little frills, try the Marshall. The Marshall is an executive theme based on low distractions and plenty of punch.
A beautiful and unobtrussive web design that is feature rich but minimalistic in appearance. The Dean is one of our most popular themes we offer.
Featuring wide images, warm colors and eye catching appeal, the Marybeth theme is perfect for coastal owners who want the tropical style for their website.
If you want a responsible, no nonsense, straight ahead theme – this is a great choice. Featuring a blazing fast load speed and smart panels for emphasis, the Eli is a solid beginning.
Light and happy, this is a great theme that is designed for owners who want a website that is easy to design, light on details, and conveys the point directly.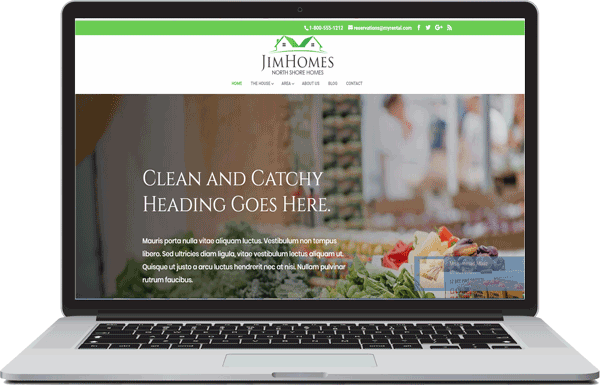 A nice centered menu structure with a wide hero heading and comfortable building blocks to work from. Choose this template to get your message out directly.
This theme conveys warmth and compassion and is the softest theme we offer.  Easy to alter with great flowing sections, choose the Wendy if you want to welcome your audience.
A beautiful direct website that is easy to read, understand, and navigate. Choose this theme for simplicity and elegance and make a gorgeous site you are proud to call your own.
Clean, bright line display this theme which we describe as cheerfully executive. The Michelle has a great vertical structure allowing users to view details without feeling rushed with panels.
William is the happy go lucky, carefree, bright website you have been looking for. It will showcase your beautiful home for rent in bright easy panels with an easy going style.
Brilliant, edgy, amazing. All of the descriptions aptly apply here. Designed to stand apart from the rest, this website is clean with cutting technology developed in Divi.